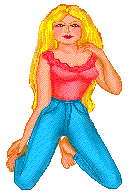 GIRLWorld Ads
Place:Angel's Gate Owner:Ms.Isabelle Angel Street:Shop Row Hours:3:00-5:00 p.m Minnie4201@aol.com
Do you love animals? Do you enjoy helping others out? Well here's your chance to get a job just right for you at the Adobe Pet Clinic! We service most regular housepets: dogs, cats, mice, gerbils, reptiles, etc. The following jobs are available: 2 secretaries 4 assistants 2 vetrinarians My name is Alicia and I'm the main vetrinarian. The clinic is at my house. For information concerning pay and stuff, please E-Mail me at Spice13193@aol.com . Hope to hear from you soon!
Haven't you always wanted a child? :-)
To smile at you full time- all the time? To be there for you when you need it most? WAHHH!!!!!! You're feeling blue Well, Visit Adopt-A-Kid today! :-) It is located on: 2 Main Street Abigail3@aol.com
School Trailer Import E-mail me, TaraOTiger@aol.com, to help me with a trailer schoolhouse. This is a simple method: e-mail me, with the grade you want to teach and your e-mail address. A trailer will be put in the yard for you. Also, any adopted children are welcome to come. Just e-mail me the grade, your screen name and their pretend name. Deadline: November 15. A class list will be sent to you by December. Place is Maine Street.
Furr's 8 Main Street Help needed! Jobs: 2 Clerks 1 Helper 1 Secratery 1 Treasurer -For more information e-mail me at Son410@aol.com!- Furr's, where we do the shopping for you!